Part 4 – Accountable
October 1865: The Duke of Buckingham and directors of the company inspect the pneumatic railway train at the inauguration of Holborn Street Station, after which they were blown from Holborn to Euston Station, achieving the journey in five minutes.
Written: July 14, 2014
Technology streamlines industries. Traditions, processes, practices, roles, jobs, whole sectors of an industry – All fall before Progress' relentless march. And Information Technology in particular marches at a ferocious pace. Accountable is the fourth in a series of articles – the last on Provincial Accounting – about the death of written systems and the birth of widespread computing.
I was reminded of my time in Provincial Accounting while thinking about the ongoing upheaval in the Independent Music Sector. So having reminisced about my time ticking this to that, it would be fantastic if I could link the two together by briefly discussing a music-industry client from my old practice. Sadly, the nearest I came to auditing show-business was test-checking the entertainer-payments book at the handful of Working Men's Clubs who were our clients. However, that did mean if you required a comic for your Friday night extravaganza – or a stripper to watch while you sunk a few pints before your Sunday lunch – I could probably fix you up.
Music Makers
Much like provincial accounting, the Independent Music Sector is a web of businesses at the smaller end of the SME scale and part of a much larger industry, dominated by a handful of large players. Because of the size and number of its participants, the Independent sector is vulnerable to changes in business practices and advances in technology. It therefore seems inevitable that IT will radically transform the sector, as it did provincial accounting. Progress demands that waste and inefficiency are removed to reduce costs and increase profitability.
The Internet is changing the way that music is exploited – In future it seems likely to also change the way that music is owned.
A digitized and very desirable product
That product drives a great deal of enduring brand loyalty from a captive and eager audience
An audience that is hooked into a worldwide communication system – dominated by a handful of influential Internet-brands – powered by massive levels of venture capital (and latterly advertising revenue).
A system that requires enormous volumes of freely available content of good quality, on which to plaster its advertising
A recipe for more upheaval, over the coming decade.

But I should finish where I started, in more senses than one …
The Globalisation Of Accounting
It's probably unfair to blame the destruction of the world of provincial accounting solely on Sage software. Though they do at least deserve some blame, if only for releasing what seemed like a million products, all starting with the word "Line".
But it is fair to blame technology.
You can read (2019 UPDATE: for FREE from Google's CACHE – bless 'em … get it quick, before it's gone! OR PAID from sagePUB) an excellent analysis of history of Accounting Practice in New Zealand (far more academically rigorous than my recollections of a tiny part of the UK market) and a host of further reading is listed – at the end of that research – if the history of accounting practice is your thing.
Accepted wisdom is that – regardless of the country, region, firm or area of practice being studied – the huge changes in accountancy were brought about by the forces of globalisation and technology – The two go hand in hand. Businesses could only grow larger – by expanding into overseas markets (often taking advantage of the global wave of 80s market deregulation) – using technology to keep control of their expanded operations.
Without technology there would not have been – could not have been – the move to globalize.
The ever increasing power and miniaturisation of computing, and the lowering of the investment necessary to utilise it, was essential in changing the world.
Accounting practice did not lead its own revolution. Instead, the business world changed around it and so accounting had to change with it. The Big-8 accountancy firms followed their clients and themselves globalised, taking over many smaller firms in the new local markets.
To a great extent, what happened in New Zealand (maybe even more so in Canada) mirrored what was happening at the same time to Provincial Accounting in the UK and had happened to the city-based UK practices half a decade earlier. Mergers, takeovers and closures dominated the industry for the final two decades of the millennium.
And it is no surprise – well, maybe some of the actual reasons for it are a little surprising – That the Big-8 firms of the mid-eighties are now the Big-4.
Pressing Forward, Dumbing Down, Moving On
It sounds an obvious thing to say – as anyone who works in IT, and especially in software development, knows – the point of software (of IT itself) is to make things easier. Sometimes that means speeding up a mundane task or eliminating it completely. Sometimes it means making the complex much more simple, or at least easier to digest. Always it means streamlining. Making more efficient. Removing waste. Automating.
But it is too easy – too trendy – to become too maudlin, when considering the damage progress does to the lives of some? Were it all bad news … well, they wouldn't call it progress, would they?
New sub-industries are created by and out of technology and continue to thrive. In the accounting-sphere: management accounting; outsourced bookkeeping; business consultancy. And technology itself is forever inventing new ways of exploiting itself – The commercialisation of the Internet the latest, possibly greatest, innovation IT has bestowed (or maybe, inflicted?) on the world.
For some, such opportunities offer the promise of increased riches and rewarding and challenging careers. But Progress is never good to everyone. For others, a job remains as Orwell described it in the 1930s: An often unnecessary toil, for which the reward is no more than sweat and damnation.
And the processes that have driven that reality will not stop. Ever faster, ever cheaper.
---
The Fall of Progress
Goddess Comes Down at Last Liberty's Dethronement — Breaks at Waist and Many View Remains
With her graceful waist parted in twain from the cruel embrace of a cable wire and hauled to the dust from a position of pride as leading lady of the city, a place which even the earthquake permitted to hold, the goddess of the city hall dome came down yesterday in two pieces, a broken goddess who had outlived her usefulness in pointing the way to San Francisco from her lofty height.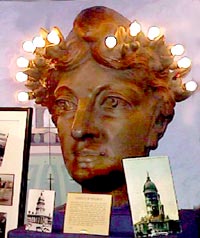 A large crowd gathered to view the remains, and they will lay in state for a day or two longer. Treasurer McDougald has been promised her head in case she is broken up for junk.
San Francisco Evening Post
March 12, 1909
---
Holborn to Euston Station
That 5-minute air-powdered journey of 1870 … takes 11 minutes by tube in 2014.
And, in case of incredulity … http://www.ianvisits.co.uk/blog/2012/11/26/londons-lost-pneumatic-railways/