Part 2 – Incomplete Records
Written: July 3, 2014
Technology streamlines industries. Traditions, processes, practices, roles, jobs, whole sectors of an industry – All fall before Progress' relentless march. And Information Technology in particular, marches at a ferocious pace. Incomplete Records is the second in a series of articles about the death of written systems and the birth of widespread computing.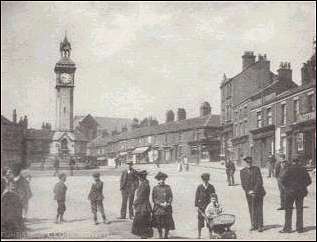 During the latter half of the 1980s I worked for one of the UK's small, independent accounting firms. As with many similar firms in provincial towns, their offices were located a short but respectful distance from the main street. Close enough to be at the heart of civic life, but far enough away from the hubbub to provide some privacy for the financial affairs of the town's business owning class.
Our branch office was at the top end of the Town Square, furthest from the main road. Our main office windows looked down over the war memorial and clock tower, situated in the centre of the square and so the town – Though our entrance door was just off the square, in a quiet side street.
Don't worry, we'll do that for you
Auditing was I suppose, the side of provincial accountancy that made you feel a bit special, respected; like a GP, or a solicitor. Striding around at a client-site, trying to look and feel important, asking to see proof of this or a copy of that and questioning staff members about the-other. However, I found the actual work extremely dull. There was no puzzle to solve. Luckily there was another side to the industry – Incomplete record jobs.
In essence, incomplete record jobs were an after the fact bookkeeping service, for clients who had little time, desire and/or too few of the necessary skills to DIY. In practice – providing they were prepared to pay – clients could walk into our office, armed only with bulging bags of invoices and receipts and expect their accounts (and estimated tax bill) to be agreed by the Revenue, nine months or so later.
Ramming Speed
The tool of choice of an Incomplete Records Specialist at a Provincial Accounting firm, was an Adding Machine. A calculator like no other. It was the size of a box of cornflakes (and not one of those tiny selection-pack boxes that you took away on holiday, which held barely enough for half a breakfast). Each individual key was so large that hitting a wrong one had been scientifically proven to be impossible.
Instead of a screen it had a paper till roll. This was its USP, its party-piece, the reason it was still in use in our office after six-hundred and nineteen years of valued service. Once you had input a list of numbers – purchase invoices, say – you could immediately check each number on the till roll back to the original source! And it didn't matter if there were ten or ten thousand entries – You could even swap in a new till roll and carry on adding up the same list, as if nothing had happened! Multiple times!!
And it made a joyous, voluminous noise each time you pressed the "+" or "-" buttons – the rhythm of our work day – something like one of those Roman warships that you see depicted in old Hollywood movies: Men banging drums; men heaving on ores; men shouting; waves crashing; a child or two screaming and the Captain on the bridge looking dashing in his dress. I would recount what happened when you pressed "=", but that would only cause a stampede to antique shops, and something valuable will end up getting smashed.
Vocation
I cannot quite put into words how much I adored incomplete record work. From finding the £9 transposition error among the thousands of transactions in the Shuttleton Working Men's Club Cash Payments Daybook, to piecing together the quarterly trading history of an abattoir whose bills of sale were stuck together with encrusted animal-blood.
Are you a jigsaw puzzle fiend? When everyone else around you has given up – and turned to Page 29 for the answers – are you able to continue trying to solve the remaining Sudoku line? Can you take on a task – which in parts may seem an insurmountably dull mountain to climb – because you believe that task will continue to laugh at you, until you have completed it successfully? Then you should be an incomplete records accountant (my son).
Unqualified Success
Many employees of provincial accounting firms were not educated to degree – or even A – level. Only the partner, who resided at our branch office one day per week, was a qualified accountant. Neither my Boss nor my Boss's Boss were even part qualified, and none of us held degrees or A-Levels.
However, we fitted in well with the blue-collar type of business owner, of which, at the time at least, there were many. We were friendly advisors, for an admittedly not so friendly fee.
Q: When is a horse not a horse?
And during my time pouring over the financial minutia of a hundred businesses and more, somewhere along the way, I learned the answer to the question above.
The daughter of one long-term client of my Boss's Boss had received many lavish presents from her father, over the years. One year a very expensive pony had been purchased (perfectly legitimately).
However, in the books for the year following the purchase of the pony, I noticed a several large expense items – Noted by the bookkeeper as advertising – for which no supporting documentation was provided. I finally chased down the invoices – they must have fallen out of the folders of copy invoices supplied to us – and discovered that they were for horse blankets, rugs, saddles and other equine equipment. I took this conundrum to my Boss's Boss.
"Perfectly fine", he told me. I must have pulled a puzzled face. "It will all be branded gear". I must have looked more puzzled still.
My Boss's Boss grinned, "The only reason the b*gger didn't claim the pony, was because they wouldn't brand [Redacted] [Redacted] Ltd on its arse!"
A: When it's an advertising hoarding.
Would You Like…?
The problem for the Incomplete Records side of the Provincial Accounting profession, was that it required business records to be incomplete (or not really exist at all, in some cases). Small Business Accounting Software changed all that.
Regardless of the industry involved, computerisation has meant the provision of easy to use systems that allow complex tasks to be performed by fewer resources, who require less training / education to do those simplified tasks, in a more standardised way.
If care isn't taken – if the ethics aren't taken into account – this can lead to a reduced workforce and the removal of many complex and rewarding jobs.
I know it's second-hand and anecdotal evidence at best: But from what I have been told, accounts preparation is not as fulfilling as it was, back when Sage was only stuffing.