If I owned the Top Gear studio there's only one car I'd hang up on the wall …
Baby cost five-thousand quid (in '96), to call it just a bargain wouldn't be right. The guy told me it was a Norwegian import, or something – To this day, I've never been sure? Hardly any miles on the clock – It's the best purchase I ever made.
It had its last drive ten years ago (when Dad used it to destroy a Royal Mail van). It was black – Subtle chrome trim along the body work – And a narrow chrome grill up front. Gold spoke alloy wheels and big fat tyres. It sat five in comfort, looked for all the world like a big family car. But hey, look a bit more closely – All is not, as it first appears.
This is not just a Mitsubishi Galant – One of those slow things you see driven by trilby wearing Granddads, with Grandma sitting 'long-side. Honestly, don't embarrass yourself, look carefully at the badge – This, is a Mitsubishi Galant 2000 GLSi
Lights on the ring road
A mile down the road from the motorway there's a set of traffic lights at a cross-roads. Ahead there's a quarter mile right-curve, then a roundabout – And there's only one lane around that. There is a left turn off the curve, but only to a small housing estate – And you can see that clearly, all the way there.
I'm usually a slow lane person, I won't be hogging the fast lane and then diving in to cut you up. Sure, you can pull up beside me – I'll have a quick glance, see what you got? Then face forward, eyes on the lights, one hand on the wheel, the other on the gearshift. No cheating, no going before they turn green – If you do I'll just ignore you, you're absolutely no fun at all. But, if you want to play fair, then you better hope your ride's as quick as you think – Because my fat whale of a Mitsi can fly.
Rep Boy ;0)
Rep Boy has bought a new motor vehicle. It's a two-litre fuel injected Honda – An Accord, if I remember right. It's got a lovely black leather interior and is the fastest of its type on the road. Rep Boy has done his research – He's absolutely delighted with it and about to show it off.
We're sitting at the lights on the ring road – Me in the slow lane, him to my right. A quick glance through the side windows and we're good to go – First one to the roundabout wins.
My Mitsi red lines at six and a half thousand – But the sweet-spot's in the late fives – When I change down and it goes again.
Eyes forward. Red-and-Amber. Revs at just over two thousand. Wait about a second – Now green – Drop the clutch. Then floor my right foot and watch the rev counter – Five thousand eight hundred, change down.
A few seconds later and I glance up to see Rep Boy in my mirror – He's indicating and pulling in behind – I select third and ease down.
He follows me home and (OK, I'm lying a bit when I write this) I give him a grin when we get out of our cars. "What you got in there?" he asks – "I got the spare engine from the USS Enterprise" I tell him, "What you got in there, two dogs pedaling and an e-lastic band?"
Ferrari Rules
There's rules to these things, isn't there? You know – Don't get too cocky, don't make yourself look a tw*t. So, obviously, I should let the guy in the Ferrari cut in front – At the roundabout, he'll probably want to turn left.
But I'm not in that mood today – And there's no one around to see me look daft. Anyway, Ferrari-bloke probably thinks he can do this at a canter. Honestly fella … I told you before about that badge on the back.
So a quick glance to my right – I'm sure he's laughing – and then eyes forward once more. Red-and-Amber – Revs just over two thousand – Green for go, drop the clutch. How I would have loved to see the look on his face.
Baby never wheel spins – Ever – I can take off like a jet fighter, even in snow. But now half way to the roundabout and he's caught me – But he'll need at least a car length (if he is cutting in, to turn left?). Third gear, Baby's still pulling, but the Ferrari's too quick for us – It's all over, first time we've lost a race (I'm a bit gutted, but hey, no real shame in that) … That is, unless Ferrari-bloke does want to go left?
I pull up to the roundabout alongside him – I probably lost by five metres and more, he could easily have cut in front. But that's the thing with expensive cars isn't it? You don't risk the dents, when push comes to shove – And Baby cost me less than his paint.
Something's coming round the roundabout, so we both sit there and wait – I have a quick glance but he's not looking – The roundabout clears and we both pull away. He pulls in behind me – like I say, there's only one lane. As I climb up the bank I glance in my mirror – And laugh my head off – He's gone right around the roundabout and now he is turning left.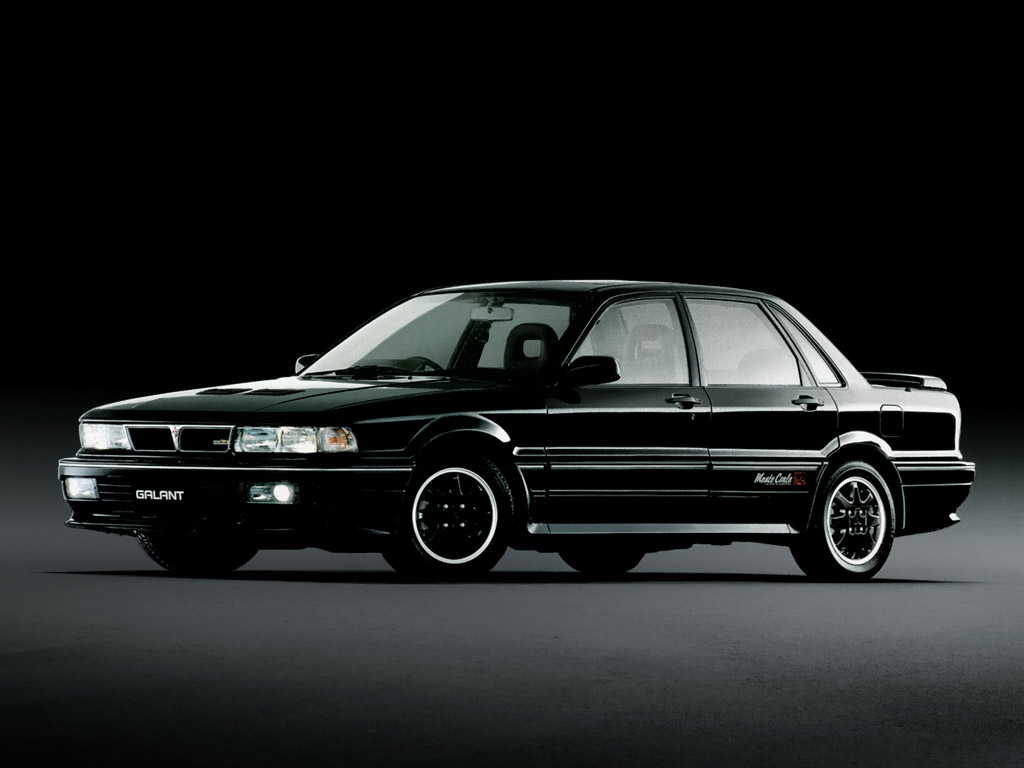 Mitsubishi Galant 2000 GLSi. It sat five in comfort. Went like sh*t off a shovel. And was built like a tank. The factory says it did a quarter mile in 18.5-seconds – One time, it did it almost as quick as a Fer-ra-ri.
Like I put at the top, if I owned the Top Gear studio only one car would make the wall: My Mitsubishi Stealth Fighter … Please look carefully, there's an i in that badge on the back.
If you are really nerdie then: https://www.automobile-catalog.com/car/1989/1938320/mitsubishi_galant_2000_glsi_4wd_cat.html
[I bought Baby just a short drive from Bolton. I bought it five minutes after seeing it – Having never seen one before. Besides the dealer, one other person was there. So a tipped hat and I hope life's all good with him – That was a really good lunchtime walk]